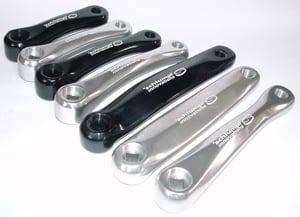 $

70.00
Replacement crank arms for all Schlumpf drive unit models.
Available colors: black or silver
Available lengths: 127mm, 140mm, 155mm, 160mm, 165mm, 170mm, 172.5mm, 175mm
Note: 155mm and 170mm arms have a wider and flatter shape & less offset than other lengths. Other lengths have a narrower, more curved shape with more offset.
Choose desired option from the drop down menu below.
* Tip: Shifting shaft protective sleeve needed to remove crank arms without damage. This sleeve is included with the Installation & Maintenance and the Maintenance tool kits. Failure to use this sleeve could result in damage to your drive unit.
*** July 2017 - note that we are currently out of stock of 170mm cranks arms in both black and silver color ***